The COT (Commitment of Traders) is a report issued by the CFTC to update the public on the future positioning of traders in the commodity markets. In the U.S. Most futures trading takes place in Chicago and New York, and the institutions covered by the report focus on these places.
COT Report data for April 9. 2013 :
Here is example of USD COT report :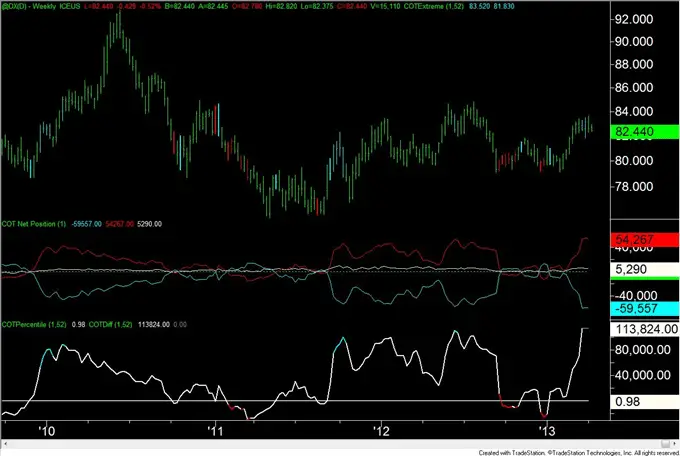 On chart you can see 0,98 as 98% value. This indicates strong USD dollar.
Latest CFTC Release dated April 2, 2013 shows that Speculators Remain Extremely Long US Dollars
| | |
| --- | --- |
| Week (Data for Tuesdays) | 52 week Percentile / Comment (if applicable) |
| US Dollar | 98 – non-commercial USD longs slightly off of record |
| Euro | 55 |
| British Pound | 0-COT index is lowest since October 2011 |
| Australian Dollar | 82 |
| Japanese Yen | 18 |
| Canadian Dollar | 2- COT index is lowest since March 2007 |
| Swiss Franc | 31 |
| Gold | 20 |
| Silver | 14 |
| Copper | 0 – specs are most short since at least 2002 |
| Crude | 88 |
Commitment of the Traders – Important things about COT report
Commitment of the traders is mentioned below:
1. When the market goes low traders become bullish and when it goes up they become bearish. The reason for this is that the commercial sellers and buyers are making hedges with respect to the fluctuation of currency. If they are starting to hedge the lot to other it is having the reason that they are exporting and importing much stuff. Here the flow of capital will follow soon and it will make changes in dynamics of particular pair of currency.
2. Other thing is the role of non commercial speculators in market which is a must for a trader to watch for the major net interest changes. Other than this you have to consider that non commercials make management of other investor's money also along with their own. Is the investors are doing short or long big time it doesn't means that it is the time for making good investment.
3. Commitment of traders in very important at the extremes but not in middle stage. Suppose the COT is showing both interests of long and short are equalized then we can say that market is good.
4. Both the feelings of a trader about the currency pair and economics are important in trading analysis. Suppose traders can feel the pair is good then they can make lot of profit easily. In this way many traders are making lot of money even if the economic positions are not stable. Always prefer the words of majority traders as it will be the real fact in trading business.
Commodity Futures Trading Commission COT review provides an exclusive look at the ranking of futures dealers amidst wide variety of marketplaces, so it is eventually used as proxies for the FX dealing industry. In the regular review, the US regulator smashes down long and brief roles and overall start attention according to the three individual dealing categories.
Such a malfunction makes it exclusive from other ranking actions, and knowing the features of three categories is important in using it as a device in dealing.
Commercial Investors – Generally these are huge multi-national organizations with professional and commercial attention in their particular futures marketplaces. For example: a huge Japanese producer may wish to restrict their exposure to the variations of US Dollar or Japanese Yen return amount.

Non-Commercial Investors – These include huge investors such as Investment Trading Experts and in the same way huge organization evaluating particular futures marketplaces. As example: significant commodity finance considers that US Dollars will be worthy against Euro thus wagers upon FX futures of Euro.
Non-Reportable Investors – these dealers do not fall in either team. They could be watched as small investors, these are probably less considerable and do not regularly determine into COT review research.
With these common assumptions in mind, we can definitely decide what we have to choose and how we have to use these details.
How do we conduct deals using Investment of Investors data?
Given that Investment of Investors details are published only once weekly and on a late base, it is challenging to avail it as an industry time device. This does not decanters it completely from the dealing indicator, still it is quite crucial to keep this warning in our venture.
As discussed, we often depend on COT reviews as an indication to recognize larger styles and prospective reversals — not actual times for dealing.
As a pattern verification tool:
As substantiated above the investors are usually large investors, we anticipate them to usually move favoring the considerable pattern. Thus we have to observe keenly when the investors fluctuates from one route to any considerable level and look to place ourselves accordingly.
The greenline given in the assessment above depicts the Net Non-Commercial ranking. When put into words, the number of agreements long minus those which are short — will give us a measurement for sentiment and ranking in GBP – USD. Ranking turned net-short the Pound against the US Dollars when the GBP – USD dealt above 2.00. Although the time pattern changes are extremely confusing, we watched the pair settle before a restraint in short interest indicated strongly towards the downside. Indeed, investors have greatly continued to keep net-short the GBP till pretty recently — keeping it enclosed within an prolonged downtrend.
As pattern turn around tool:
Actually it is not quite easy to calculate and time considerable industry tops and bottoms, yet we can receive a better decision for when feeling and ranking approaches an excessive through Investment of Traders information.
The information above exhibits considerable shifts in net Professional and Non-Commercial ranking amidst Euro and US Dollars forex pair. The marking in green symbolizes Net Non-Commercial ranking, while the marking in pink reveals Net Professional Roles.
Many of the past remarkable tops and bottoms have approximately coincided with a new extreme in the change between Professional and Non-Commercial ranking. It is difficult to understand where altogether such extreme conditions happen, but we observe that following several days see the same change average and notify of prospective pattern change.
From each of above three examples, the considerable tops and bottoms took place within 2 to 7 weeks. It is not a perfect industry time device, but such symptoms can lend you better idea of prospective pattern changes.
Using commitment of the Traders Indication on charts
With the help of Strategy Investor, we can transfer an indication that will plan the Investment of Traders information on our charts just as we watched in the above illustrations.
If you really haven't got the Strategy Investor set up on your device, visit main page, then obtain the platform. This could be definitely used with any of the current FXCM trading records or you can simply join a trial account to analyze the platform.