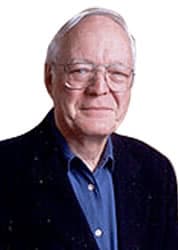 John Neff was born in 1931 in the city of Wauseon, State of Ohio was one of the top ten money managers during his successful span of thirty years in stock market business. He will be remembered for beating the broad market index 22 times. Numerous fund managers trusted him with their money, as they believed that their money would be secured with him. That was the reason that brought him the reputation of "professional among professionals".
After graduating from the University of Toledo in 1955, where the Department of Finance in His was name in his honor, he got a job at the National City Bank of Cleveland, where he worked as a securities analyst. He stayed there for 8 years during which time he got his Master degree of Business Administration, at Case Western Reserve University. After that he moved to Wellington Management Co where he became the portfolio manager of several funds; Qualified Dividend, Gemini and Windsor. At his time at Windsor, it turned out to be the best performing mutual fund. After successful career in investing, in 1995 he retired. In 2001, he wrote an autobiography titled "John Neff on Investing".
John Neff Trading style :
His investing style places focus on low-tech security analysis, which means that an investor should research through the company's books, and analyze the work of management before taking the final steps before investing. He developed a method where he would buy good managed companies, in good industrial are that are possible to be bought for low price and be sold at a good earning price. Neff's investment management contains elements of value-contrarian investor strategy, even though he never considered himself to be such an investor.
He used to look for all sorts of stocks but only if they were with low P/E radios. He always wanted to see the management of a company that he wanted to buy to investigate for himself how the company was doing. He firmly believed in examining the company's books. He was known to read the Wall Street Journal several times, and weekends would be the time to thoroughly examine the magazine.
John Neff Quotes:
"I've never bought a stock unless, in my view, it was on sale."
"It's a good read, … I was determined not to do a how-to book in a pedantic way. There are a lot of lessons in there that could be of value to people."
"Successful stocks don't tell you when to sell. When you feel like bragging, it's probably time to sell."
"The baskets start at $25 and] the sky's the limit, … I've done baskets worth hundreds of dollars. At that price, they are putting in luxury items."
"For the expectations to be correct, you have to believe that the p/e multiple would have to go to never-before-reached heights or there is significant earnings to the upside of the estimates. Both expectations are problematic."
Published books:
John Neff on Investing. by John Neff, S. L. Mintz. Published by John Wiley and Sons, 2001. ISBN 0-471-41792-0.
Reference:
http://en.wikipedia.org/wiki/John_Neff
http://en.wikipedia.org/wiki/The_Vanguard_Group