John C. Bogle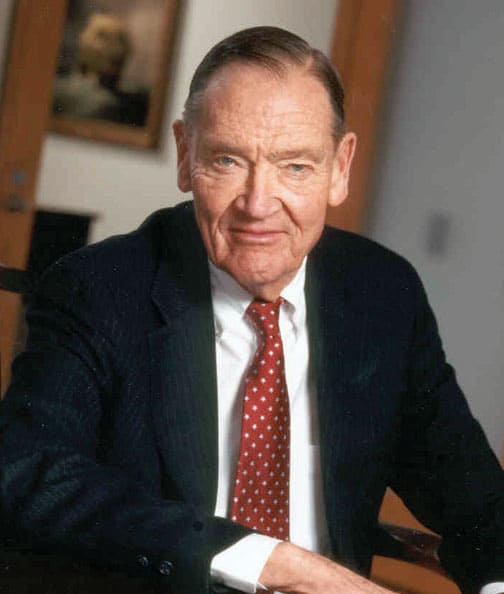 John Bogle was born in Montclair, New Jersey in 1929. He was just like any other child in that period; he was raised in a family affected by the Great Depression. He studied at a prestige colleges due to earned scholarships and in 1951 he graduated at the Princeton University where he got the degree in economics.
The "investment giant" of the twentieth century is the name he got because of his accomplishments in the investment world, started working on his life "masterpiece" during his time at the college. He was attending classes for mutual funds and took his graduate thesis on the same subject. That was the groundwork for his greatest accomplishment – index mutual fund.
After graduating, he started working for Wellington Management as a financial advisor. He worked there from 1951 to 1974, when he was fired from Wellington due to some bad investment decisions. Even though he claimed that youth and inexperience brought him to "the worst decision" of his life, he recovered very fast from it, and later in 1974 he founded Vanguarda. He stayed in the company until 1999 after what he retired from the position of the chairman.
In his biography called "The Vanguard Experiment: John Bogle's Quest to Transform the Mutual Fund Industry", he is described as a man who is completely and uncompromisingly following his principles, and his principles were to always put the interest of the investors first. He is also determent in giving constructive critique to the fund industry for practices that run counter cheap, mutual fund investing that is oriented towards clients which is the reason that he got nickname "the conscience" of mutual fund industry.
John Jack Bogle trading style:
Do not take the investment decisions emotionally, do rational analysis !
Analysis should be based on the past performances.
Trade low-cost index funds.

John Bogle Quotes:
Time is your friend, impulse is your enemy.
Remember reversion to the mean.
Buy right and hold tight.
Have realistic expectations.
There's no escaping risk.
Forget the needle, buy the haystack.
Minimize the "croupier's" take.
Stay the course.
Beware of fighting the last war.
Hedgehog beats the fox.
Learning from his own experience, Bogle embraced some principles which helped him to invest and which he recommends to other investors. One of the principles he recommends to the investors is not to take the investment decisions emotionally, but to relay only on rational analysis. This analysis should be based on the past performances. Boggles' investment style is based on simplicity. Choose low-cost index funds, never have too many funds, and be aware of the size of your fund – those would be some of his advices. He also advises investors to buy their own portfolio and hold it.
John (Jack) Bogle's ultimate accomplishment is inventing Vanguard 500 Index Fund. This mutual index fund was the first one available to public. As president of Vanguard's Bogle Financial Markets Research Center, he is active in giving lectures and writing books on investment issues which will remain his legacy to the new generations of investors.
John Jack Bogle lives in Bryn Mawr, Pennsylvania, with his wife Eve, and they are the parents of six children and the grandparents of twelve children.
Published books:

Bogle on Mutual Funds: New Perspectives for the Intelligent Investor (McGraw-Hill, 1993), ISBN 1-55623-860-6
Common Sense on Mutual Funds: New Imperatives for the Intelligent Investor (John Wiley & Sons, 1999), ISBN 0-471-39228-6
John Bogle on Investing: The First 50 Years (McGraw-Hill, 2000), ISBN 0-07-136438-2
Character Counts: The Creation and Building of The Vanguard Group (McGraw-Hill, 2002) ISBN 0-07-139115-0
The Battle for the Soul of Capitalism (Yale University Press, 2005), ISBN 0-300-10990-3
The Little Book of Common Sense Investing: The Only Way to Guarantee Your Fair Share of Stock Market Returns (John Wiley & Sons, 2007), ISBN 978-0-470-10210-7
Enough : True Measures of Money, Business, and Life (John Wiley & Sons, 2008), ISBN 978-0-470-39851-7
Common Sense on Mutual Funds: Fully Updated 10th Anniversary Edition (John Wiley & Sons, 2009), ISBN 0-470-13813-0
Don't Count on it!: Reflections on Investment Illusions, Capitalism, "Mutual" Funds, Indexing, Entrepreneurship, Idealism, and Heroes (John Wiley & Sons, 2010) ISBN 978-0-470-64396-9
The Clash of the Cultures: Investment vs. Speculation (John Wiley & Sons, 2012) ISBN 978-1118122778
Reference:
http://en.wikipedia.org/wiki/John_C._Bogle
http://en.wikipedia.org/wiki/The_Vanguard_Group