Exante is a regulated prime broker in Malta, and lately, it has been implicated in a huge cybercrime network. Potentially one of the largest financial cybercrime network in history, involving multiple traders from all over the globe. All of these traders seem to be involved in a hub, located in Ukraine, where stock trading was done via insider information that was stolen by hackers.
Insider trading is a huge crime with plenty of penalties attached to it, up to and including prison time. This is because it puts an unfair advantage on a few people trading in the stock market. This can cause people to manipulate the stock market, and earn millions of dollars in a short amount of time, thus hurting the stock market as a whole. Many studies claiming that it even lowers the cost of stocks as a whole.
The SEC, also known as the US Security and Exchange Commission, has filed charges of fraud involved in this trading ring. Over 30 people altogether were arrested and charged with generating over 100 million dollars through illegal ways. The charges state that Exante has been in possession of multiple trading accounts at Interactive Brokers and Lek Securities. Both of these offer financial services to people in regards to stocks and bonds. These trading accounts were used in connection to the scheme, which netted them alone, 2.45 million dollars.
Exante is owned by Lartemisis Holdings Ltd, and the founder and CEO are Alexey Kirienko, who also founded a hedge fund called the Global Hedge Capital Fund back in 2007. This hedge fund actually provided the basis for what Exante is today.
Exante was caught due to the fact that they did not trade the funds intelligently. According to the complaint made by the SEC, "Exante and Global Hedge frequently made illicit trades in the same securities, on the same days and around the same time, and often through the same IP addresses," It should be noted that three of the 5 directors have an address in Malta.
Exante Responds To The Claims
Exante, however, has fought back against these allegations, claiming that they are vehemently such illegal trading practices. They are planning on fighting the SEC allegations tooth and nail to prove their innocence. They have stated in a press release: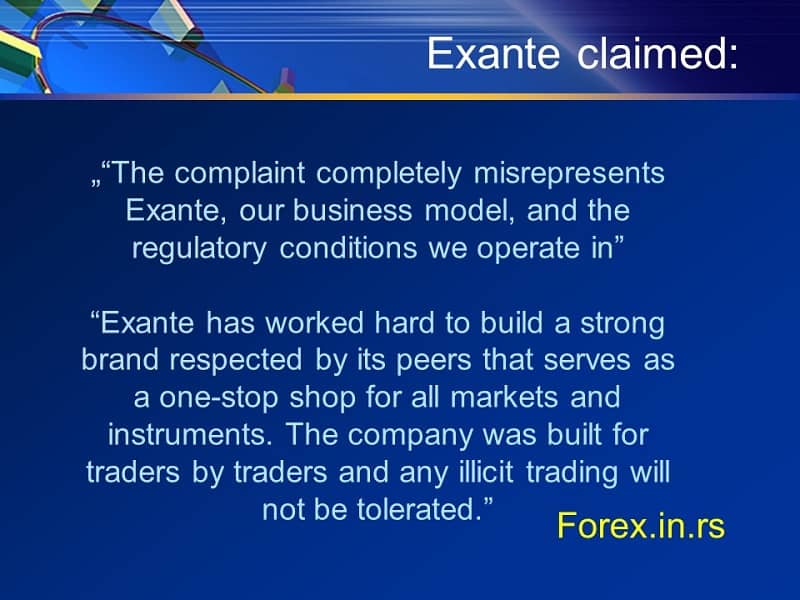 They also fought back against the claims that Exante is a hedge fund. Exante feels as if the charge filed against them completely misrepresents their company, and how they function, and also are quoted stating:
The company also claimed that they were in direct contact with numerous authorities, including the MFSA, also known as the Malta Financial Services Authority. "We have no doubt in time we will be proven to have acted in an appropriate manner and await the factual results."
Update To The Charges
However, a few months later, in 2016, the charges against Exante have been cleared by the SEC. Although that has not stopped many of their customers from being charged anyways. 9 of their brokerage customers and settlements have been charged. This has not stopped many of the insiders from the company to be charged, instead of Exante themselves.
There may even be more in the future, as the aforementioned hackers are believed to have transmitted the insider information to various traders in Ukraine, Cyprus, Malta, France, Russia, and even three US states. Nearly a dozen individuals and companies have been named in the new charges. The SEC claims that they violated the Securities Exchange Act of 1934 also Rule 10b-5 and section 17a of the Securities Act of 1933.
The SEC is attempting, with the charges, to seek the return of the ill-gotten gains, with interest attached. Meaning that the people charged will be paying far more than the money that they initially earned. This will effectively help the economy in the long run.
Exante made a statement afterward, claiming how they will continue to work hard to make sure that their clients are safe and secure.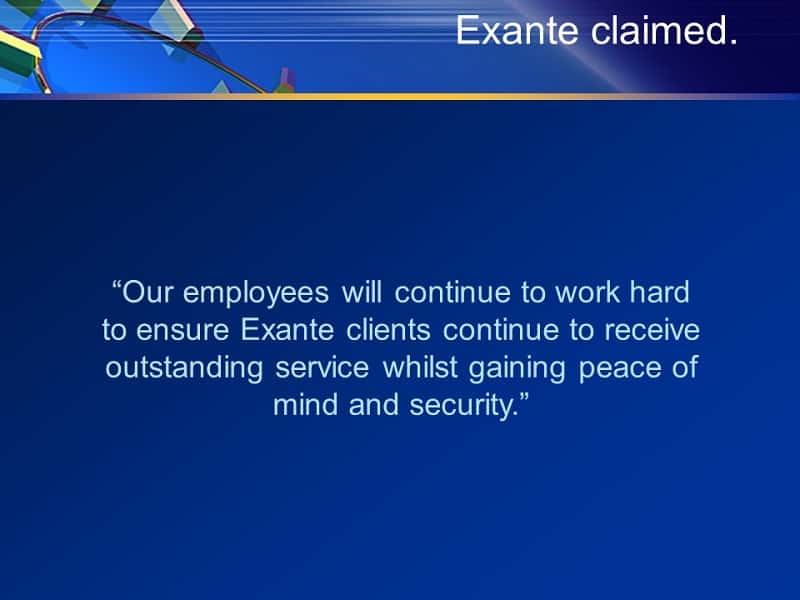 It is only a matter of time before we see the outcome of this case.