Broaden Your Horizons with Forex Innovators
Forex is a well-known lucrative business these days. You can make money without limits at all. Forex market is truly the best place for investors these days, since foreign currencies from various countries are sold and bought. If you want to invest in a forex trading career you need to attend seminars or conferences. By doing so you will learn how to deal with the forex market, dealing with the forex market is like having an intimate affair with someone. It is usually comprised of thirty to a hundred participants depending on the capacity of the venue. There will be a panel discussion and question and answer after the speakers shared their knowledge at the venue.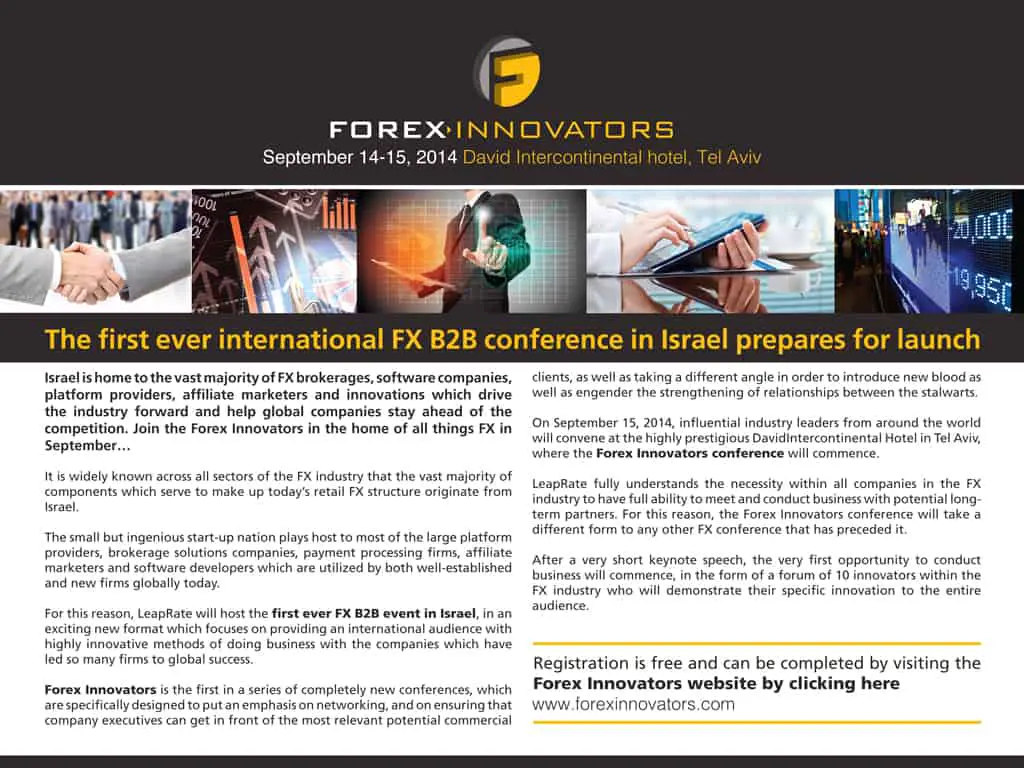 When you attend a forex conference, you will learn a lot from the experts and this will not harm your techniques in terms of trading. You will also learn a lot of things from them that you have never known before. It will provide you with tips & tricks of how you can transact with the forex market to make good earnings along the way. There will be a Forex Innovators will be held in Tel Aviv at David Intercontinental on February 28th – March 01st, 2015. This is a unique chance for you, so you shouldn't miss this event. You have to register ahead of time, because they can only accommodate 500 registrants only. Forex Innovators highlights the series of B2B conferences & expos thus leading people and their ideas within the online trading world.

People are so much interested about new innovations and discovering what is yet to come in the world of trading is truly a must for all traders out there. Do come and be able to explore and share the world with hundreds of forex executives at this big event that will happen in David Intercontinental in Tel Aviv. There is a specially designed agenda for the 2 days event and you can check on it at forex innovators agenda. Forex exhibitor's booth will bring you to a serious industry player and it will provide you with enough chances to be able to present your solutions to your prospective clients & associates as well in your own way. If you wish to pick the right exhibitor booth you can contact stephanie@forexinnovators.com for details.
The organizers of Forex Innovators would like to make this event memorable and fun to everyone, so they came up with the contest. They will be holding a contest to know the twenty of the best and prime innovations in the forex world nowadays, thus it will cover anything from social media to trading tools. Those who will be picked will be given the chance to present their company in one of the Elevator Pitch presentations at the conference where hundreds of forex executives are. The winners of the said contest will be given emphasis at the website of the conference along with video content at their exhibitor video page. The application for the said contest is now closed and those who have been selected will be informed soon, so they can prepare for the presentation at the conference on September.

Main details :
New dates are: February 28th – March 01st, 2015 , Israel, DavidIntercontinental
Agenda : http://forexinnovators.com/agenda
About conference : http://forexinnovators.com/overview
Register