Deltastock Forex Broker Contests – free no deposit forex competition
The Deltastock Forex Masters Contest is a very interesting competition for Forex traders from all around the world. The main strategy of this competition has three tiers. These tiers are practice, trade and win. The contestants in this competition can start their practicing with the help of their free demo account but that account has to be filled with an amount of 50,000EUR for initiating this competition. The traders are free trade in different currencies, oil, shares and Gold. This provides than an offer to earn the maximum amount of profit with minimum loss. This contest enables all brokers to easily trade with 1 click through their distinct and friendly website. This web platform includes the entire the essential information and requirements to win for all the contestants. The contestant who trades every month in a live account wins 500 EUR. The winner trader must have the maximum demo account balance among all other contestants win this competition.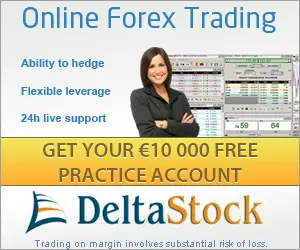 With the help of this simple Deltastock Forex broker contests, you can win real prizes by just trading with demo accounts. At the end of each month, the top ten contestants that have the utmost balance in their demo accounts get great prizes. These prizes are distributed according to the ranks of the winners. The top winner gets 500 EUR in his live trading account. The contestant who stands at second position is awarded with 300 EUR in his live trading account. The participant of third position achieves 200EUR in his live trading account. And all the traders who win from position 4th to position 10th get 100 EUR in their live trading account at the end of the month.