Mena Forex Show 9-10 April, 2015, Dubai 2015 in The Westin Mina Seyahi Beach Resort, Dubai, UAE
Because the 13.th forex show was a success in shopping managed funds & investment chances that was currently held in Dubai in November, there was a huge demand from a lot of international brokers. That gives so much pleasure to the launch of the 14.th Mena Forex show, Managed Funds & Investment chances. It will be held in Dubai on the 9-10 April, 2015,in The Westin Mina Seyahi Beach Resort, Dubai, UAE. This event is specially designed as a meeting point for professionals in the trading industry. Did you know that this expo promises a lot of things to around a thousand of investors, presenting the broker from within Middle East and from fifty exhibitors globally?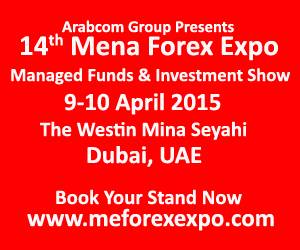 If you are targeting the Middle East Markets, then this forex show in Dubai is just the place to be. The show will cater you with the unique platform to be able to let you expand your business and this is both for newbies and for veteran brokers. There are lots of networking chances, discussions and you will have a chance to chat with various people as well over coffee or over lunch during the show. This forex show is brought to you by the Arabcom group that has been into promoting sustainable socio-economic development in the Arab States for 21 years now. The organizers of the show were pioneers in making the Telecom ICT sector in the Middle East since 1990s along with online financial sector, investments and a lot of fields since then.
Joining a forex conference or seminar can be an advantage on your part. It is one of the solutions that you can explore just to make your day at the market in a much better state. It's just the forex market is one of the most unstable markets in the globe and you need to consider a lot of options to make things work for your advantage. There are lots of support systems that will be available for you to consider when it's about help and education in terms of trading, so when you look at a forex seminar, you have to look for it as something that is advantageous and can help you with your needs.
Did you know that you can get a lot of benefits by simply attending the Mena fourteent Forex Show? You will be able to discover how to secure your investment with managed fund account; you can also exchange ideas and concepts with different traders globally. You will have the chance to gain broader viewpoint of the markets and you will easily understand how to make profits from your trades. You can also find the tools that you will need to make the best decisions that you can use for trading.
You can also get the best trading education that money can buy, but you do not have to spend anything, because it will be provided to you for free in this forex show. You can meet some of the prime and top international brokers globally and be able to explore different trading currencies as well. By simply listening to famous and respected speakers with their markets presentation you will learn a lot of things that you can use for your career growth. you can check on http://www.meforexexpo.com/ for more helpful details that you need for this forex show.
Main details:
The 14th MENA Forex, managed funds and Investment show will be held on 9-10 April, 2015, The Westin Mina Seyahi Beach Resort, Dubai, UAE .
Website: http://www.meforexexpo.com/
Exibition overview: http://www.meforexexpo.com/exhibition.htm
Mena conference agenda
Registration