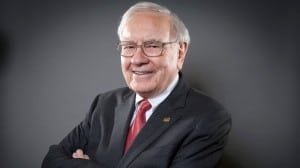 Born in 1930 in Omaha, Nebraska, Warren Buffett is one of the most successful men in the history of investing. Known as "Sage" or "'Oracle" of Omaha, he has become a multibillionaire by buying companies and stocks. He made his business decisions relaying on the principles of Benjamin Grahams, who was the reason for Buffett to change his professional interest from Science to investment. Allegedly, after getting his Science degree he read Grahams book "The Intelligent Investor" and then decided to study under Graham. His wish came true and he graduated at the Columbia University, and got his science degree in business in 1951. He made his investments mainly through Berkshire Hathaway. The rest was just a matter of time, because Bershire Hathway stocks that was worth 10,000 dollars in 1965, now worth 50 million dollars.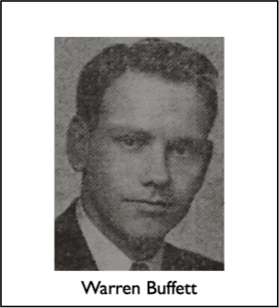 After graduating, Buffett returned home and started his own investment business. His company was called Buffet-Falk & Company where he worked as an investment salesman. Still fresh from the university, he needed more knowledge and he had found it once again in Graham. The two become very close friends, since Graham was a good mentor with no problems sharing his knowledge with his young friend.
After three years in Omaha, Buffet moved to New York to work for Graham's company called Grahams-Newman Corporation. His job was security analysis, where he got chance to analyze a lot of companies which helped him to create his own approach to stock investing.
Working for Graham for two years, Buffet collected a lot of experience and at the age of 25, he decided to go back to Omaha and start on his own again. He invested starting capital of 100000 dollars in 1956 and by the 1969 his investment got thirty times bigger. In 1965 he invested in, at that time unprofitable Berkshore Hathway textile company in New Bedford, Massachusetts. After changing financial framework, the company got back on the track. The core business remained textile business, but Buffett use it as a holding company for his other investments.
In 1973-74, after the collapse of the market, Buffett bought a lot of companies which made Berkshire Hathaway company a great holding company that today is, which has been estimated in 2006 to have assets and sales to 240 billion and 100 billion dollars.
Warrent Buffet Trading style:
This sentence talks a lot: "In our view, though, investment students need only two well-taught courses – How to Value a Business, and How to Think About Market Prices.".
Investment style of Warren Buffett is simple. He has a number of simple principles which he follows. His criterion for business is to have a good return on investment. Also, the investment needs to be understandable and easy to run. The profit should be seen in cash flow. Earnings on those investments should be predictable, franchises strong and management owner-oriented. Following this criteria, according to Buffett, will lead you to "wonderful business".
Warren Buffett Quotes:
"It's far better to buy a wonderful company at a fair price than a fair company at a wonderful price." (Letter to shareholders, 1989)
"I never attempt to make money on the stock market. I buy on the assumption that they could close the market the next day and not reopen it for five years."
"If a business does well, the stock eventually follows."
"Look at market fluctuations as your friend rather than your enemy; profit from folly rather than participate in it."
"The investor of today does not profit from yesterday's growth."
"When you combine ignorance and leverage, you get some pretty interesting results."
"Price is what you pay. Value is what you get."
"If you aren't willing to own a stock for ten years, don't even think about owning it for ten minutes."
"The best thing that happens to us is when a great company gets into temporary trouble…We want to buy them when they're on the operating table." (Businessweek, 1999)
"Be fearful when others are greedy and greedy only when others are fearful."
"After all, you only find out who is swimming naked when the tide goes out." (Letter to shareholders, 2001)
"Rule No. 1: never lose money; rule No. 2: don't forget rule No. 1"
"Risk comes from not knowing what you're doing."
"Someone is sitting in the shade today because someone planted a tree a long time ago."
"For investors as a whole, returns decrease as motion increases"
"When we own portions of outstanding businesses with outstanding managements, our favorite holding period is forever."
"You don't need to be a rocket scientist. Investing is not a game where the guy with the 160 IQ beats the guy with 130 IQ." (Warren Buffett Speaks, via msnbc.msn)
Published books:
One of the many interesting facts about Buffett is that he never wrote a book about his business neither his life, even though there would be a lot of things to learn from him if he is ever to write a book. Also he has decided to donate a part of his fortune to Bill and Melinda Gates foundation and four other charities started by the members of his family. He wrote a lot of articles and public annual letters to shareholders.
We can suggest this two Warren Buffett books:
The Essays of Warren Buffett : Lessons for Corporate America, Warren Buffett and Lawrence A. Cunningham, The Cunningham Group; revised edition (April 11, 2001), ISBN 978-0-9664461-1-1
The Essays of Warren Buffett: Lessons for Corporate America, Second Edition, Warren E. Buffett and Lawrence A. Cunningham, The Cunningham Group; 2nd edition (April 14, 2008), ISBN 978-0-9664461-2-8

Interesting things :
Warren buffett stock portfolio in summer 2014 (Berkshire Hathaway portfolio) :
| Company | Ticker | % of portfolio |
| --- | --- | --- |
| | | |
| WELLS FARGO & CO NEW (COM) | WFC | 22.64% |
| COCA COLA CO (COM) | KO | 15.75% |
| AMERICAN EXPRESS CO (COM) | AXP | 13.36% |
| INTERNATIONAL BUSINESS MACHS (COM) | IBM | 11.82% |
| WAL MART STORES INC (COM) | WMT | 4.10% |
| PROCTER & GAMBLE CO (COM) | PG | 3.85% |
| EXXON MOBIL CORP (COM) | XOM | 3.84% |
| US BANCORP DEL (COM NEW) | USB | 3.22% |
| DAVITA HEALTHCARE PARTNERS I (COM) | DVA | 2.52% |
| MOODYS CORP (COM) | MCO | 2.01% |
| GOLDMAN SACHS GROUP INC (COM) | GS | 1.96% |
| DIRECTV (COM) | DTV | 1.85% |
| GENERAL MTRS CO (COM) | GM | 1.11% |
| U S G CORP (COM NEW) | USG | 1.09% |
| BANK OF NEW YORK MELLON CORP (COM) | BK | 0.85% |
| VERIZON COMMUNICATIONS INC (COM) | VZ | 0.68% |
| CHICAGO BRIDGE & IRON CO N V (N Y REGISTRY SH) | CBI | 0.67% |
| SUNCOR ENERGY INC NEW (COM) | SU | 0.65% |
| M & T BK CORP (COM) | MTB | 0.62% |
| VIACOM INC NEW (CL B) | VIA-B | 0.61% |
| VERISIGN INC (COM) | VRSN | 0.58% |
| NATIONAL OILWELL VARCO INC (COM) | NOV | 0.55% |
| LIBERTY MEDIA CORP DELAWARE (CL A) | LMCA | 0.50% |
| PHILLIPS 66 (COM) | PSX | 0.48% |
| COSTCO WHSL CORP NEW (COM) | COST | 0.46% |
| PRECISION CASTPARTS CORP (COM) | PCP | 0.44% |
| LIBERTY GLOBAL PLC (SHS CL A) | LBTYA | 0.40% |
| WABCO HLDGS INC (COM) | WBC | 0.40% |
| VISA INC (COM CL A) | V | 0.35% |
| CHARTER COMMUNICATIONS INC D (CL A NEW) | CCMM | 0.33% |
| DEERE & CO (COM) | DE | 0.33% |
| TORCHMARK CORP (COM) | TMK | 0.32% |
| LIBERTY GLOBAL PLC (SHS CL C) | LBTYK | 0.28% |
| MASTERCARD INC (CL A) | MA | 0.27% |
| GENERAL ELECTRIC CO (COM) | GE | 0.25% |
| SANOFI (SPONSORED ADR) | SNY | 0.19% |
| CONOCOPHILLIPS (COM) | COP | 0.10% |
| MEDIA GEN INC (CL A) | MEG | 0.08% |
| VERISK ANALYTICS INC (CL A) | VRSK | 0.08% |
| GRAHAM HLDGS CO (COM) | GHC | 0.07% |
| NOW INC (COM) | DNOW | 0.06% |
| JOHNSON & JOHNSON (COM) | JNJ | 0.03% |
| MONDELEZ INTL INC (CL A) | MDLZ | 0.02% |
| KRAFT FOODS GROUP INC (COM) | KRFT | 0.01% |
| UNITED PARCEL SERVICE INC (CL B) | UPS | 0.00% |
| LEE ENTERPRISES INC (COM) | LEE | 0.00 |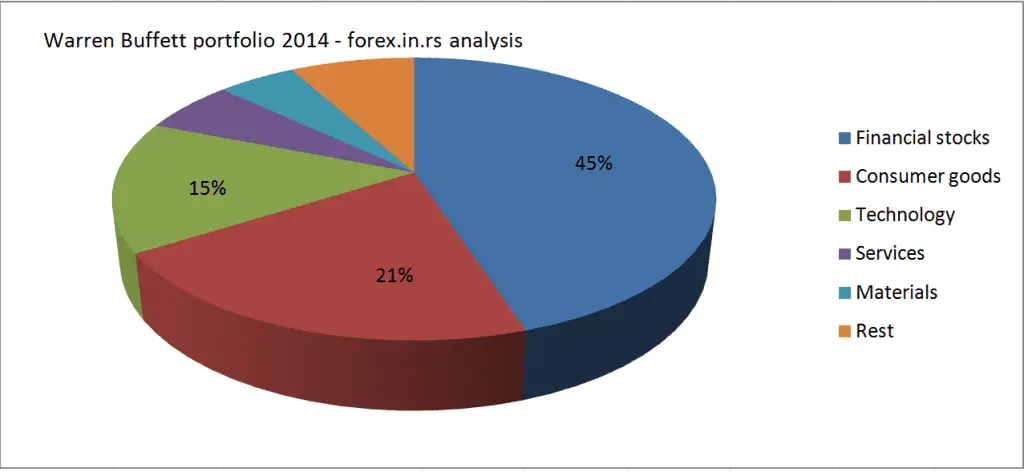 Reference:

http://en.wikipedia.org/wiki/Warren_Buffett
http://en.wikipedia.org/wiki/Value_investing
http://en.wikipedia.org/wiki/Berkshire_Hathaway