Inverse Head And Shoulders chart pattern is interesting chart pattern which traders use to predict forex pair reversal.We use this pattern to predict bullish trend after downtrend.
Step 1 : Price falls than rise.
Step 2 : In next step price will fall again, deeper, and than rise again.
Step 3 : Head will be formed and now we can see bullish reversal.Afther bullish signal we will have pullback and this is the right time to enter on long side.
This forex/stocks chart pattern is also known as a "reverse head and shoulders" or a "head and shoulders bottom
Inverse Head And Shoulders chart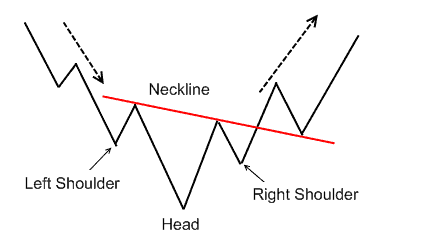 How I use this pattern :
This pattern is excellent trend reversal indicator on H4, daily, weekly chart.Traders need to be very nimble and try to avoid this pattern on small time frames charts. Today I made buy order for GBPUSD pair.I saw Inverse Head And Shoulders chart pattern and strong gbpusd bullish momentum.I noticed that price is above Monday high and it is smart idea to catch weekly high using this pattern.