On starting Forex trade in the market as professional work all traders realize that beside the basic knowledge of productive trade strategies and the various system approaches and methodologies of capital management, the success at Forex relies on the psychological condition of a trader.
If you happen to be an amateur Forex trader; from where would you extract the required confidence for carrying out trade operations? What strategy would you choose if you've landed in a lousy deal and do not want to get into huge debts? In case you are going into negative figure, how can you change the figures to positives?

Firstly trading is a field committed to efficient methods of gaining profits. The internal state of a trader greatly affects the trader's ability of estimating accurately opportunities in particular market conditions.
Once a trader shifts from demo trade account to an actual one, the outcomes become excessively weak or although dealing identical quotes in identical trends yet having different outcome. Why? All things occur because of the psychological state. When operating on one's personal money there are the emotions of fear as well as greed which also happen to be the forces that move the market. Fear in the market results in currency rate fluctuations and mostly these motions do not depict actual global economy processes.
Problem
A lot of traders trade against trend and try to buy bottom price and sell on price top.Very often they enter into trade, close trade, then again enter into trade etc.In forex traders need to wait for triggers and important levels. See mind map and forex trading psychology: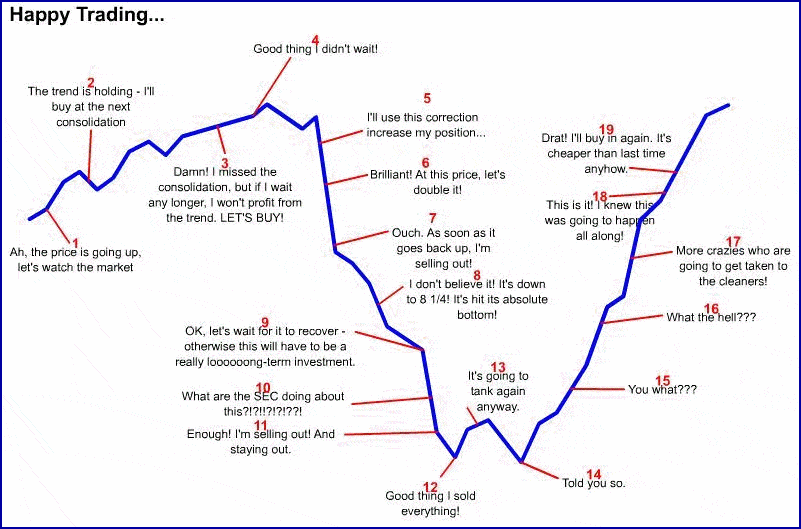 Solution :
In order to avoid emotions to influence your Forex trade, you are required to gain skills of trade strategies. Only disciplines traders can operate in market for the duration of trade aiming for certain objectives. In trade it is not permitted to a trader to give in to the market pressure and quit the market hastily.
There exist various methods of developing a trading behavior. The essential element is to work for a few hours regularly formulating a time system that work best for an individual trader. The best option is to pick some approved trade system.
Tips:
Do not trade against trend without price conformation.Wait. Be patient.
Do not risk a lot. Use Pillow test.
However, complying with the signals of a trade system can be hard. For this traders need to realize that there will be plenty of good chances of entering into the market. Most traders enter a market either too quickly out of excitement or too late. Both scenarios result in loss and consequently suffer from nervous stress. Operating in a currency market is not that simple as many negative elements exist in it that can influence a trader's psychological state.
It is also true that profits can influence trader's behavior negatively too. When earning profits a trader can lose focus by overestimating his skills. In case where trader performs rather tactfully aiming at attaining a certain level of monthly income instead of making hasty profits, this would surely reduce stress in all the carried out deals.