Automated Trading vs. Manual Trading
People hold the general belief that the pro traders depend merely on their personal experience, skills, and foreseeing capabilities, and that carrying out trade through some expert system is for the amateurs who are yet to adjust to the market gain experience at reaching decisions. However in reality the expert advisors are generally written by currency market gurus for the sole reason trade optimization and boosted effectiveness. Therefore use of auto-trade systems in no way reflects the experience of a trader.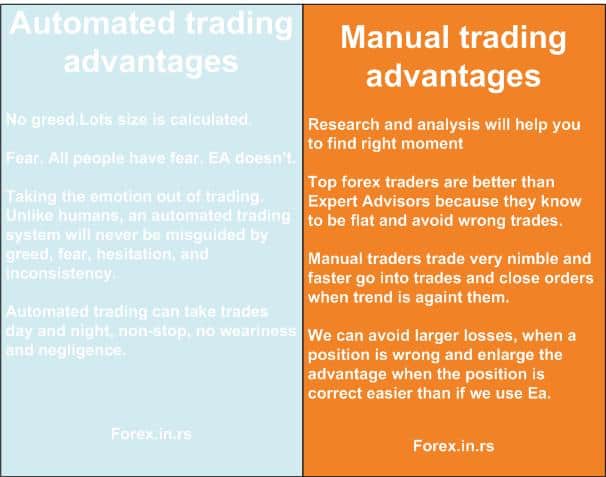 Telling whether manual trade would give better trade results or automatic is not really possible. Certainly through use of an expert advisor the brainwork is made simpler, time is saved from all the long hours' monitoring of the market fluctuations. Furthermore, by using expert advisors traders avoid the psychological factors to affect trade decisions as these algorithms work on a preset mathematical algorithm. Another plus point in using trade systems is that they are configured to extract most profits even in situations with highest levels of risk.
However beware of any hidden schemes prior to using an expert advisor. Firstly, a robot is not to entirely relied upon, programs are not perfect or free from all mistakes. Rather paradoxical but certain writing software for automating trade process are able to add in the human factor.
Another weakness of advisors lies in the fact that the data processed by them is little i.e. only some indicator's data are used for estimations. So certain important and effective indicator rates may be missed by advisors altogether. This weakness in expert advisors results in a weakened control of risks on part of humans too.
Below is dailyfx video about automated forex strategy :

The advisor may cause estrangement of a trader from the market. By automating the bargain process a trader manages things without complete analysis of market movements. The traders step back and watch the expert advisor make deals.
A good advisor is not merely one that is coded well, but also one that is suitable for utilizing all trade instruments and applicable in all market situations. For making profits via expert advisors, choose one that suits you. The question arises as to how to do that?
The perfect method is code an expert advisor yourself embedding in it your own trade strategies. In case coding is too difficult then at least learn the basic principles an expert advisor bases its decisions on. Your compatibility with an advisor determines your level of success with it.
Avoid being impressed by the catchy ads about some expert advisor. The reality is usually different from what they show. Also be cautious downloading advisors available for free. At times, the resources offering such advisors might actually be breaking actual authors' copyrights.
Helpful stuff regarding expert advisors can be found at http://mql4.instaforex.com.