The Arabcom Group is pleased to announce the launch of the "14th Special Edition" of its
unmatched MENA Forex Show 2015 on 9-10 April, 2015 atThe Westin Mina Seyahi Beach Resort, Dubai, UAE.
The MENA Forex managed funds and investment show is the largest online trading exhibition, conference and awards event in the Middle East and North Africa.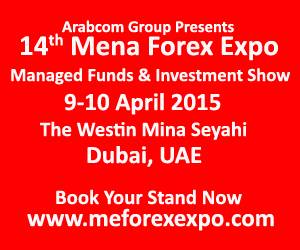 14th Special Edition 2015 of MENA Forex Show
Mrs. Katia Tayar Founder and President of Arabcom Group said that "this edition of the MENA Forex Show will be particular, celebrating our Success Story after hosting 14 consecutive Forex shows since 2007, as well as more
than 100 events in 22 years."
Mrs. Tayar valued the "outstanding support and sponsorship of all our customers, brokers, service providers, education institutes, speakers, media
partners, attendees, participants, visitors and friends." She also attributed the business success to their "loyalty and continuous trust in our work that
aims at delivering core values of professionalism, strategic commitment, and technical excellence in educating the markets in the Arab region about online
trading and investments."
The 14th MENA Forex Show will showcase latest developments and initiatives in Forex Trading through a series of presentation sessions, interactive panel
discussions, exhibition and demonstration area, in-depth case studies to equip investors with the insights required to exploit the lucrative FX
environment.
The show will bring together more than 1000 delegates including hedge institutional investors, fund management companies, fund and commodity trading
advisors, fund of funds, and service providers to the alternative investment industry. It will also offer them a unique networking experience where they
can effectively discuss the economy, regulatory reforms, investment opportunities and investor needs, and be entertained tremendously.
In addition, the 14th MENA Forex Show will feature unrivaled access to investment opportunities, managed funds and trading in commodities and currencies,
within the significant increasing number of traders in the Middle East in the shadow of the expansion of telecommunications networks, internet and online
services.
Join us in the "14th Special Edition" of the MENA's leading Forex Expo to meet high-quality potential clients from different Arab and overseas countries,
as well as the Free of Charge Conference that hosts international leading speakers, experts, analysts, and technicians.
For attendees and visitors willing to attend the show A few steps await your Free online registration, Click Here.
Follow us on Twitter & Facebook
Hashtag: #MEForexExpo
Contact
Jean Louis Farwagi, Vice President – Arabcom Group
Mobile +961.3.214215
Company Overview

The Middle East and North Africa Forex Trading Expo & Conference brings together the industry's most respected speakers and draws more than 60
international exhibitors & sponsors and over 2,000 participants under one roof.



Arabcom Group, which launched the first series of Forex shows in the Arab region in 2007, is a pioneer in promoting sustainable socio-economic
development since 1993, through developing Telecom and ICT sectors, as well as online financial sector, investments, and many other fields. It has in
its portfolio over a hundred events, summits, conferences, exhibitions and forums that maintain unique networking and business opportunities. Arabcom
is in partnership with over 50 governments and 5000 private sector companies, and major UN organizations and media outlets.